Originally published at Scott Edelman. Please leave any comments there.
So last night, when we realized we'd be cruising through Frederick, Maryland at around 8:00 p.m. without having had a chance to eat dinner first, we realized—hey, this is finally our chance to eat off Family Meal's dinner menu!
Irene and I have had many brunches and lunches there, starting last July right after they opened. But for a variety of reasons, dinner remained elusive. And so, as we neared Frederick on our way home from a day down county, we thought—gotta be Family Meal!
Turkey pot pie fritters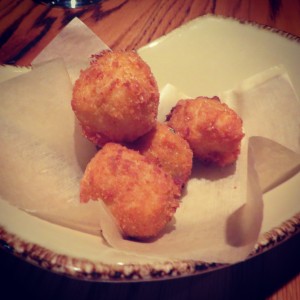 We'd had chicken pot pie fritters during our second lunch at Family Meal, but never the turkey ones. Glad I finally got to pop a few of these in my mouth. Best delivery method for pot pie filling ever. Better even than pot pies themselves!( Read the rest of this entry »Collapse )


And now? Time for some writing before the soup is ready. And yes, I did -- finally! -- accomplish some writing/drafting last night.
Where my day went: A walk, a visit to the gym, Visit to the dermatologist which resulted in 2 biopsies (Yay, needles! Actually, YAY, in all seriousness, for tiny little needles that only cause a little prick or two), a quick yogurt lunch, a visit to the Soc. Sec. Admin office, wherein I learned that Social Security is apparently not for older Americans, but younger ones who are most likely applying for disability benefits, even though most of them look more than qualified to work (and I will shut up about that now, but really, what an eye-opener, and I wish there was a way to stop the abuse of the system), the rest of the Christmas decorations applied to the house and tree, and now an aromatherapy-pot of split pea with ham soup simmering on the stove, while the fireplace nicely heats the room, and the tree and candles create a nice ambience. Mmmmm.
Remember when we'd find out news like the death of Nelson Mandela from LJ before other sources?
Writing Resolutions for 2013
, I've discovered that my recent whining over not selling a story in 2013 was incorrect!
I have, in fact, sold two and a half stories in 2013. A half, you ask? I'll explain when I post my resolutions for 2014.
My deepest and most sincere apologies for my unforgivable whining lately. It seems I've been a bit of a moron.
After re-reading my
Current Location:

Starbucks

Current Mood:

busy

Current Music:

My Top Rated playlist
The Sound of Loneliness
by Craig Wallwork. Terrible title, great book. Actually, this sort of book—bad wannabe poor writer in a working class neighborhood—is my "sexy vampire." Oh, is there a sexy vampire in that book? I'd better check it out! Anyway, Daniel Crabtree is a shitty writer with nothing but one friend in newspaper publishing, a dying uncle, and memories of his awful father. Then he tries to befriend a teen girl. I suppose it's very much in the mode of Knut Hamsen's
Hunger
, but funnier. The cover almost makes up for the title: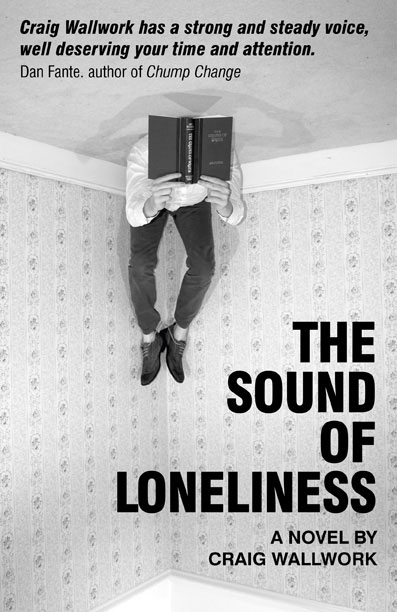 So Much Pretty
by Cara Hoffman. A great crime/social novel with an anarchist theme. My friend Benjamin Whitmer says that crime fiction is the only genre in which writers can authentically write about class in America, and I agree.
So Much Pretty
is a prime example. This novel offers multiple POVs and shifts back and forth in time in such a way as to make a tragic inevitability rather than a tedious "twist" of the old missing girl trope. It's also an amazing look at the dying towns of upstate New York (and really, any exurban area in the US these days). Hoffman, who used to write for
The Fifth Estate
doesn't make the mistake of giving the characters that share her politics an easy time of things. Perhaps little Alice Piper, a multivariate prodigy, is a bit of wish fulfillment, but complaining about wish fulfillment in a crime novel is like complaining about crime in a crime novel. A sign of quality: mixed reviews on Amazon and Goodreads, with many of the one-star reviews featuring comments like, "A book with so much potential but the author chose to bore us with numerous narrations and use a deep poetic way of writing that you read it & wonder what is even happening or the story trying to convey." Waaaah, it's hard! Someone told me lady writers make easy mystery books! Boo-hoo!
Marvel Comics: The Untold Story
by Sean Howe. Brian Keene pushed this book at me, and I started reading it on a plane, but I wasn't very excited about it. What a fool I was! This book is compulsively readable. I was steeped in Marvel comics in the 1980s, but like any dumb kid had little idea of the business decisions that influenced various storylines and product launches.
Marvel Comics
is full of tiny horror stories—when the firm was in bankruptcy there was even a rule against using too many paperclips. Jim Shooter was a giant in the field, and perhaps the world's worst person. I don't think one needs a minute interest in Marvel characters to enjoy this book; really, it should be required reading in B-schools, and among union organizers looking to penetrate the creative fields.
The Panopticon
by Jenni Fagan. The
New York Times Book Review
embarrassed itself when it declared this book an "English novel." It is a Scottish novel, written in dialect. Ursnay possible tae miss, ye cunt. Fifteen-year-old Anais (not her given name, duh) is in care and believes herself to be under the eye of The Experiment. She's not far from wrong either. Terrible things happen, but when life is nothing but a series of terrible things, what can be done, except maybe beat a police officer half to death for the sake of love? Did I say half? Make that three-quarters, or maybe seven-eighths... Ken Loach is
producing the movie
, so I am even excited about that.
Farther and Wilder: The Lost Weekends and Literary Dreams of Charles Jackson
by Blake Bailey. I've discussed my fascination with
literary biography
before, so I'm a sucker for this sort of thing. What makes this book different is that Jackson is essentially a failure. He's known for one novel—
The Lost Weekend
—and then primarily thanks to the classic movie. But he's done more than many authors in that the phrase "lost weekend" has entered the English language and is used by people who have never heard of Jackson, making him as influential as the authors who coined the terms "catch-22" and "Big Brother" in a way. Like many of Bailey's subjects, Jackson was an alcoholic and a homosexual in a time when being out was a deadly risk. Jackson had great successes and massive failures, and thought himself a much better writer than he was. A great unfinished novel he'd been working on for years was supposed to match Proust. He also saw himself as the next Thomas Mann. Sadly, he spent a lot of his energy writing sentimental short stories for the slicks, in debt to his publisher, and going off on benders. He kicked booze more than once, but Seconal was even more addictive. We don't really ever get in-depth treatments of one-hit literary wonders, so there was a novelty interest here. Of course Bailey's bios of Cheever and Yates are well-known for their excellence–if you liked them, you'll like this one. It's the same sort of thing, except that Jackson is an even more pitiable and interesting figure.
In other news, my novel
Love is the Law
received this extremely positive-sounding negative review:
2013 in Shit: Love Is the Law
. The blogger prefers books that are "aggressively poorly written." He writes, "There is a certain (spatial) dimensionality to the sorts of works of fiction that are poor examples of craft that I find lacking in writers like, say, Pynchon or Mamatas. There's worse company, I suppose." I get what he means. I can't manage that true underground don't-give-a-fuck, though it's part of my literary DNA. (Of course, Danielweski's book isn't underground DGaF at all—it was part of a transmedia commercial enterprise in conjunction with his pop star sister. But he
aped
DGaF so well.) Which wouldn't be a problem if I
could
manage Extruded Commercial Product For Idiots, Dispensed Annually. Hey girls, my characters are slashable! Hey fellahs, my heroes are witty and slick in the way you're too fat and ugly to be. So I'm stuck in the middle with(out) you. I'd like to recommend to him
The Panopticon
over
So Much Pretty
, though as I mentioned, for most people I'd make the opposite initial suggestion.
I also feel him when he says that he bounces off my stuff, even as he enjoys the concepts. I feel the same way about a ton of mainstream SF and crime fiction. I delayed this post to start reading
Burning Paradise
by Robert Charles Wilson, because it looked like the sort of thing I'd enjoy very much. A bit of the copy:
Cassie's world has been at peace since the Great Armistice of 1918. There was no World War II, no Great Depression. Poverty is declining, prosperity is increasing everywhere; social instability is rare. But Cassie knows the world isn't what it seems. Her parents were part of a group who gradually discovered the awful truth: that for decades—back to the dawn of radio communications—human progress has been interfered with, made more peaceful and benign, by an extraterrestrial entity.
But then I opened the book and started reading. The aliens, or at least their ground troops, are bland white men in fedoras, straight out of
Dark City
or
Fringe
, and are are full of green goo. In
Sensation
, at least mine were of "indeterminate ethnicity" and full of spiders! And Cassie? A teen girl, at least at the start, and even worse she's...well, here's a screencap:
Oh boy, a geek! Who is too smart and strange to have friends! Fuuuck yoooooooou, Wilson. There are certain commercial inevitabilities in novels that fall short of ruining the books, but that certainly taint them. Most readers aren't very sensitive to them—indeed, they crave 'em! I'm somewhat sensitive. The Year in Shit blogger is even more sensitive, it seems, or at least differently sensitive. At least he knows what he likes.
What did you like this year?
As usual, these are books I read this year, not necessarily books released this year. Though I think this time some were from 2013, or at least 2011 or 2012. These are in no particular order, though I guess the second book listed is the one I'd most highly recommend.
The Stop-Watch Gang
, I've sent a story to
Tesseracts 18: Wrestling with Gods
.
That puts my total number of submissions for the year at 51. Oh so close! This is week 49, so I'm hoping to hit the magic "52" before the Christmas craziness begins.
The shiny counter:
51 / 52 submissions. 98% done!
In other news, I'm a member of
Codex
. I have been a member for a while now, but I've never really participated in the group. After some nudging/prodding from
The Stop-Watch Gang
, I spent some time on the boards today, and decided to enter the Novel contest for 2013. I know I'm ridiculously late, but what the heck.
Gotta start somewhere.
After incorporating the feedback from
Current Location:

Starbucks

Current Mood:

busy

Current Music:

My Top Rated playlist
Originally published at Scott Edelman. Please leave any comments there.
I received an email notification Monday that Marvel Comics had sent me a mysterious FedEx package. What could it contain? I had no idea.
Marvel's plans are usually a mystery to me, and I tend not to find out that early comics work of mine is being reprinted until it actually has been reprinted and I receive either a check or the printed book. So I had no idea what I'd find when I returned home last night and tore open the envelope.
Well, it turns out that an eight-page story I wrote starring The Vision, which was illustrated by Herb Trimpe and colored by my (at the time) future bride Irene Vartanoff …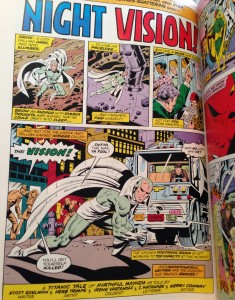 … which first appeared in Avengers Annual # 6 way back in 1976 …( Read the rest of this entry »Collapse )


Ok,, so this is why I haven't been posting, because my posts turn into big long whines about what isn't going right. And lots of things are going right and things aren't that bad. But I'm tired and cranky all the time, and that makes me feel Bah-humbug. So now I'm going to go get on comfy clothes and meditate for 10 minutes and then write, because I'm revising a story and I have a deadline to sub it. So, time to get off the whinge-horse and settle in to work. Right? Or, maybe I'll just play another round of Spider. ;-D
For the first time in almost-forever, I had to scroll to another page to read all my flist. And I'm pretty sure I read it yesterday? Or maybe not, I really can't recall. I've been in a Mood. Feeling stressed and peevish. Had about zero patience with the grandboys this week. Thanksgiving was just too close to the Christmas season this year. On Thurs., it was Thanksgiving, and on Sunday we both celebrated Son #1's birthday AND decorated the Christmas tree. And my biggest issue with Christmas season is I like to be organized and when I'm not, it's for crazy-making, and until all the presents and supplies are bought, I feel unorganized, so I WANT TO DO IT ALL NOW NOW NOW RIGHT THIS VERY MINUTE, NO I CANNOT WAIT. *sigh* Patience is what I need. And I'm so tired all the time. On Monday I went to yoga. Usually I'm not that thrilled about going to the gym, but about halfway through the class, I start to feel oh-so-good and by the time yoga is over, I'm all relaxed and stressfree. This week it was the opposite. I got more and more tired as the class went on to the point I just couldn't do some of the moves. So I talked myself out of going today, too.